Home
»
Insurance Claims Assistance
Insurance Claims Assistance from Greater Denver's Roofing Experts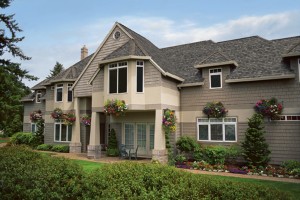 From helping file roof insurance claims to inspecting the roof and completing repairs, we provide our customers with the peace of mind they deserve.
The Front Range often gets hit by major hail storms, so Colorado homeowners in Denver and elsewhere should know about the insurance process.
Metro Construction offers free storm damage assistance to all of our clients. We understand that dealing with the insurance process can be overwhelming, especially in the aftermath of a severe storm. We have established relationships with all major insurance providers, allowing for preset insurance pricing. This helps to significantly expedite the claims process.
Below you can find an overview of the insurance claim process, as well as a description of some common insurance myths and advice regarding storm damage claims. If you're ready to get started on your project, schedule a free estimate in Denver, Aurora, Colorado Springs and nearby!
The insurance claim and roofing process
Provide your roofing Project Manager with your insurance provider's contact information and your policy number. Metro Construction will file a claim on your behalf, if possible. Some companies request the homeowner file the claim. If this is the case, have your adjuster come out to inspect the roof. Once your appointment has been set, notify your Project Manager with the time and date and the adjuster's information.
After the adjuster comes out to inspect the roof, the claim should be approved and you will receive a check for an estimated 50% of your claim. If you have a mortgage, the check will be made out to you and your mortgage company. Contact the company directly to find out how to get the check endorsed. Do not sign the check until it returns from the company, in case it gets lost in the mail.
Sign a contract with a reputable roofing company like Metro Construction. You will likely only have to pay your deductible. Contact your Project Manager when you receive the first check from your insurance company (and after it has been signed by your mortgage company, if applicable). This check is due as a down payment when material arrives at your home.
Metro Construction will install your new roof! After the final inspection and your approval, sign any necessary paperwork. If your mortgage company or HOA needs to inspect the roof, call them to do so now.
The final bill will be sent to your insurance company, with a copy provided to you as well. Your insurance company will send you a check for the second 50% of your job. The invoice is due when you receive this bill, so you must contact your Project Manager to pick up the second check.
Insurance claims myths and pitfalls
If you think you might have damage, schedule a roof inspection as soon as possible. Even if you don't think you have damage, an inspection after a hail storm is in your best interest. Just because there aren't any missing shingles doesn't mean there isn't any damage.
Another thing to keep in mind is the myth that your insurance company will cancel your policy or raise your rates if you file a claim. Insurance companies handle thousands of roof claims a year. After a storm, your neighbors are all probably calling in their claims. Rates may go up regardless. So if you don't report your own claim, you'll be paying for everyone else's repairs and not yours!
It's very important to read over your entire homeowner's insurance policy so you're aware of what things are covered and what things aren't. Because roof claims can be common, your insurance may contain specific roof related policies and exclusions. An exclusion is simply a measure your insurance company takes to avoid fraudulent claims and unnecessary expenses by excluding some items from coverage. You should examine your insurance policy for any roof-related exclusions. Some of the most common are:
Complete roof replacement. Roof repairs are almost always covered, but in some cases your insurance may not cover complete replacement. Most insurance companies will cover replacement when your roof encounters wind damage, hail damage or other storm damage. However, any damage resulting from improper maintenance or neglect is likely to be denied coverage.
Roofing material restrictions. All insurance companies do not cover all roofing materials. Wood shake is probably the most likely to be denied, as it can be less durable and expensive to repair. Slate, stone and tile are also more pricey and insurance companies are therefore more reluctant to pay for them. New, untested materials (think new green roofing) frequently aren't covered because insurance companies simply aren't used to them or don't know what to expect down the line with them.
Roof age. Older roofs are less likely to be covered by insurance. If you're buying a new home, make sure you check out the roof before you apply for your insurance. Insurance companies don't want to insure old roofs as they are more likely to need replacement soon. Make sure there aren't multiple layers of shingles, either. While this is a cost effective roofing method, your insurance company might consider the bottom layer to be the real "age" of the roof. If the roof has more than two layers of shingles it probably will be denied coverage as well.
If there's one thing to take away from all this, it's read your insurance policy. Many homeowners need roof replacement at some point, so it's wise to be aware of your roof insurance coverage.
Get started on your roofing needs today
Contact us right away so that the wind, hail, or other damage done to your roof can be fixed as quickly as possible to prevent mold damage from roof leaks and other related issues. We will provide a comprehensive roof inspection and no-obligation quote for repair or replacement of your roof, siding, and gutters.
Call us or request a free quote online. Metro Construction serves Aurora, Denver, Colorado Springs, Littleton, Fort Collins, Pueblo, Boulder, Broomfield, Longmont, Arvada and other surrounding areas.
Looking for a price? Get a no cost, no obligation free estimate.